Curtains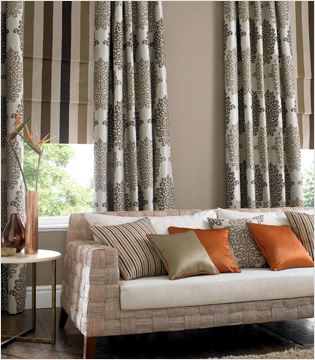 Blenheim Fabrics are very experienced in all aspects of the curtain and drapery trade. We have been designing and manufacturing curtains for over 20 years and have produced soft furnishings for all types of homes from traditional to modern, rustic to classic. We can do as much or as little as is necessary to help you create beautiful curtains in your home. If you prefer to make your own curtains we provide a fantastic range of fabrics both from stock and to order along with all the tapes, linings, tassels and trimmings at wonderful value. We also offer a full make-up service providing a broad range of styles including headings such as plain 3" ,plain 6", goblet, triple pleat, eyelet and tab top. We have a large range of options for lining your drapes including polyester cotton twills, cotton sateens, combined interlinings, loose interlining, flame retardant linings and blackout linings. We can machine sew, blind hem, overlock and hand sew according to your requirements. We manufacture a broad range of styles for valances and pelmets, both in shape and weight. We manufacture bespoke padded pelmets and swags and tails to suit your room.We can trim any of your products in fabric and with our wide selection of passementerie and trimming embellishments. We custom make Roman blinds to suit your windows using a vast range of fabrics. We manufacture cushions to your designs and can offer these from our extensive collection of fabrics. We offer a full measurement and fitting service to all of these products. If your needs are for all or any part of these services we have the experience and the know how to meet your requirements.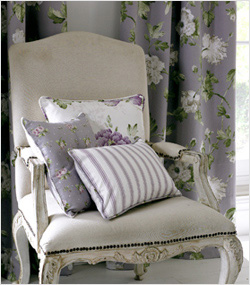 Upholstery
The staff at Blenheim have over 25 years experience in the re-upholstery business. We have worked on a great variety of styles of furniture from traditional to the latest modern styles. We also have worked on many commercial schemes including Hotels, restaurants, bars and schools. The selection of fabrics we offer are all engineered for upholstery with a high wear factor and are all flame retardant where required. The samples of these fabrics are available in each shop. We also are experienced in making loose covers for sofas chairs and dining chairs. It is very expensive to buy really good quality furniture and your "old" furniture is likely to be of better quality framing than many new suites. These can be completely rejuvenated for a fraction of the cost of a new suite of a similar quality.
Poles
In recent years there has been a tremendous influx of designer developed poles and tracks to add a great variety to the options available to the public. Just 10 years ago most people only had the option of some plastic tracks and a few wooden poles. This is no longer the case as the choice is now vast. Blenheim have invested greatly into this to offer a great deal of options to our customers. We have budget, yet high quality poles and tracks in stock along with designer styles. We also bring in customised poles across the size range in wooden, burnished brass, satinised steel and technical tracks. This all offers a wonderful choice to dress your curtains and to maximise the look of your window dressing and drapes.
Blinds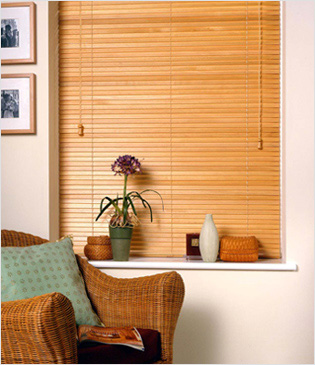 Blenheim offer a broad range of various types of blinds including Roman Blinds, wooden venetian blinds, roller blinds, aluminium venetian blinds and vertical blinds. These blinds are custom made to your individual requirements.
Roman blinds are available from the vast range of fabric products both in stock and to order. The standard Roman blinds are made using a cord lift system which enables the user to pull a chain roller to lift and lower the blinds. This makes a no nonsense blind which is easy to operate.
Wooden venetian blinds give a warming method to offering privacy for the home with style and simplicity. Blenheim offer the Styline blind system with a rich range of natural and fashionable colours.
The Blenheim roller collection has a broad selection of plain and pattern designs. These are possible to purchase with many qualities of engineering such as dim out , blackout , fire proof , uniview and many others. The colour and textural range is vast.
Aluminium venetian blinds also are available in many colours and have also got several finishes including metallic and perforated.
The vertical blind range is usually offered in the plain colours of the roller blind range but also has a series of different textured vanes that give a different feeling and mood to a room.
All of these blind collections are able to be measured and fitted if required and there is no charge for any quotation. It is possible to obtain samples for home viewing.
Suppliers